Mumiy Troll vs DJ Ivan Scratchin' — Ima Gonna Rock U (incl. Vox Dub Mix)
Апр 20th, 2008 | Category:
Релизы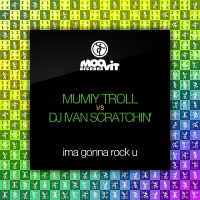 Mumiy Troll is a very-well known Russian independent act which has a hugefollowing thanks to their versatile approach to their albums and liverepertoire over the last 10 years.
Last winter while recording their last album in the US, Ilya Lagutenko, singer/main songwriter collaborated with the LA-based artist/songwriter Scott Thomas. Hollywood director Anthony Hoffman has made a video for the song Ru.da (Today I say). So Mumiy Troll has finally arrived in English and all their fans across the world can now understand the band's lyrics.
Song «Ima gonna rock u» is from forthcoming album AMBA (in English). Remix «Ima gonna rock u» made by DJ Ivan Scratchin', who cooperate with Mumiy Troll for a long time.
DJ and musician Ivan Scratchin' is the main initiative person and the founder of the MOO VIT RECORDS. He was the person good at the remixing material of the most famous russian pop and rockstars. The main conceptive direction of the label's activity will be production of the qualitive commercial hits in house, electro, breaks genres. The first singles have been already appreciated by the world top djs.